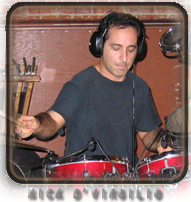 Nick D'Virgilio is one of the premier modern rock / progressive rock drummers on the scene. He has worked with Genesis, Spock's Beard, Tears For Fears, Kevin Gilbert, Jordan Rudess, Mike Keneally, as well as numerous other side and solo projects. Nick delivers everything from solid pop grooves to quirky odd time signature prog grooves.
This combined with his signature pop sensibilities and skillful melodic playing make Nick D'Virgilio a modern rock powerhouse.
What are the Studio Profiles?

Brought to you by leading edge sound developer Sonic Reality, Studio ProFiles focuses on the best of the best when it comes to sample sessions with legendary artists, famous instrument brands, top studio gear and authentic musical styles. Here you'll not only be able to get a behind the scenes look at famous studio sessions and live performances but also purchase Studio ProFile series sound libraries that are like having access to the multitrack masters of classic albums and films to use in YOUR OWN MUSIC!

Through products into the Studio ProFile series your music and visual productions can have a sound that would otherwise cost you hundreds of thousands of dollars in studio time, gear rentals and the fees of top engineers, producers and session musicians for a small fraction of the cost.
Recorded with Top Studio Gear
Studio ProFiles are recorded at 24-bit resolution directly into ProTools® HD using only top studio equipment such as Neve®, SSL®, API®, Manley®, Great River® and more.
They deliver ready-to-use, album quality material and an authentic sound with outstanding character that is inspiring for many styles of music.
Legendary Artists
Each title in the Studio ProFiles series "profiles" a different world-class musician or a specific musical genre/style and includes legendary musicians playing grooves and phrases with the feel they are famous for.
Nick D'Virgilio, Mark Hornsby and Sonic Reality CEO Dave Kerzner recorded much of this unique library at "Mower Studios" which was formerly known as Kevin Gilbert's Lawnmower & Garden Studios. This room was designed to offer a sound similar to the Townhouse studio in London. Both Nick and Dave used to play in this room in the mid 90's when working in Kevin Gilbert's band "Thud" and "Giraffe" (which played a one off tribute to Genesis - The Lamb Lies Down on Broadway" in 1994) Nick's library includes more than 650 stereo loops, recorded in a broad range of modern styles, feels, and time signatures. Also included are some veritable loops reflecting D'Virgilio's influences and the music he has played. Ample fills, variations, and tempos give you the substance and flexibility required to take your projects to the next level!
What do you get in this specific package?
62 Taos loops
472 Stereo loops that can be used in your favorite DAW.
3.22 GB