Neil Peart Drums Vol. 1: The Kit for BFD3

Expansion Pack for BFD3 with Neil Peart of Rush and his Signature DW Rock Kit






Average Customer Review:
5

Stars (based on 1 reviews)



**Now Fully compatible with In Music BFD3.4 and the In Music License Manager**

Neil Peart Drums Vol. 1: The Kit features samples of the authentic Drum Workshop® Signature "Snakes and Arrows" kit of drum legend Neil Peart from the band Rush. Recorded by producer Nick Raskulinecz (Rush, Foo Fighters, Alice In Chains) this multitrack kit offers the ultimate high fidelity rock sound with incredible realism for keyboardists and e-Drummers.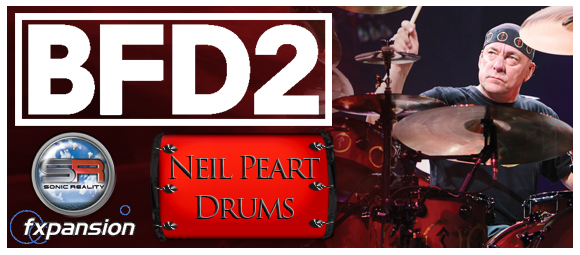 About The Kit in Neil's Words:
In 2006, they [Drum Workshop] built me a "West Coast Kit" on which I recorded a few songs for my friend Matt Scannell, as well as Snakes and Arrows. Everybody who heard those drums was blown away by their sound, but John continued to develop his ideas—combining different combinations of laminates for the shells, like his "Vertical Low Timbre" innovations. Just as the West Coast kit had eclipsed the R30 drums in tonality and resonance, these new ones take it to what my teacher, Freddie Gruber, would call "another place." After I had rehearsed a couple of weeks on the West Coast kit, my drum tech, Lorne "Gump" Wheaton, put up the new ones, and I truly couldn't believe how different they sounded—how much bigger and warmer.

One of these drums is bigger—the 23" bass drum, which is another unique innovation of John Good's. Back in the 70's, when Rush were opening shows, I used to be able to go out front and listen to other drummers. I noticed then that 24" bass drums had a particular "kick" (for once the word is apt), but I preferred the playability and dynamics of a 22". John suspected that the 23" would combine the best of both, and he was right. The "VLT" approach was also applied to the snare drum's shell, and it was another revelation—the best I have ever played, for both response and sound. The toms are 8", 10", 12", 13", two 15", 16", AND 18", with DW's Coated Clear heads. Remo supplies some of the other heads, while the drumsticks are Pro-Mark signature models.
In an earlier Web story, I noted that "black is the new gold," and this time the hardware is plated in black nickel. Likewise, "red is the new black," the finish is Aztec Red, inset with a pair of logos Hugh Syme and I created for the CD package. The Greek symbol ouroboros, or snaking eating its tail, surrounds a calligraphic rendering of my favorite road sign: the universal symbol for "winding road." (On a motorcycle or in a fast car, that's the best kind of "snake and arrow" you can see.") The repeating motif, in gold leaf and metallic gray satin over the Aztec Red, was created by DW's master painter, Louie Garcia (a true artist).

The cymbals are my signature Paragons, by Sabian, with a 22" ride, 20", 18", and two 16 crashes, 13" high-hats, 14" "x-hats,"8" and 10" splashes, 19" and 20" China types—plus our new innovation, the "Diamondback," with tambourine jingles." - Neil Peart
NOTE: Upon purchase, please see the documentation in your user area for important download and installation instructions for this product.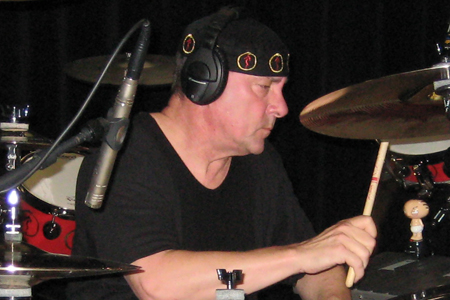 Sonic Reality is proud to announce Neil Peart Drums Vol. 1: The Kit, a sample library for BFD, as part of the Drum Masters series. Neil Peart, legendary drummer of the band Rush, has collaborated with Sonic Reality and producer/engineer Nick Raskulinecz (Rush, Foo Fighters, Alice In Chains) to bring the authentic sound of Neil's "Snakes and Arrows" Custom DW® Drum Kit into the digital domain. With advanced features such as deep level dynamics, humanized random alternating hits, discrete multiple mic mixing and more, this deluxe sampled kit is an ultra-realistic recreation of Neil's actual acoustic set as used live on tour and in the studio.

Now for the first time, e-drummers, keyboardists and composers can play rock drum samples with the iconic signature sound of drum legend Neil Peart and have a world-class, hard-hitting drum kit suitable for many styles of music from Progressive Rock to Heavy Metal! Producer Nick Raskulinecz engineered the sample sessions with over 20 channels of Neve® mic preamps, deluxe vintage tube mics and multiple room positions for one of the most elaborate sampled drum kits ever.
Neil Peart has been one of the world's most acclaimed drummers for over 35 years. His virtuosic work with the band Rush has inspired drummers and expanded the school of rock drumming beyond all technical limitations. Peart is known for his intricate beats, fast hands and complex time signatures.
Neil Peart joined Rush in 1974, who has written and recorded rock classics such as "Tom Sawyer," "The Spirit of Radio," "Freewill," "Limelight" and "YYZ." The band continues to play around the globe to enthusiastic audiences of all generations.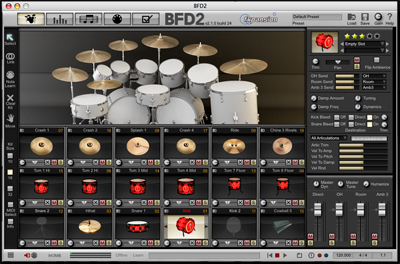 BFD delivers the power of an 18-piece customisable drumkit directly into your DAW as multi-channel high quality 24 bit audio. BFD lets you forget the hassle of hiring an arsenal of high quality kits, a high-end recording studio, a drummer, a drum-tech and an engineer, leaving you free to get on with writing and mixing great-sounding drums!
BFD is a software acoustic drum module featuring multiple articulations and mic positions, sampled with superior expressive detail. Integrating directly into your sequencer environment, its flexible and intuitive interface allows you unprecedented freedom to build varied and stunningly realistic drum tracks.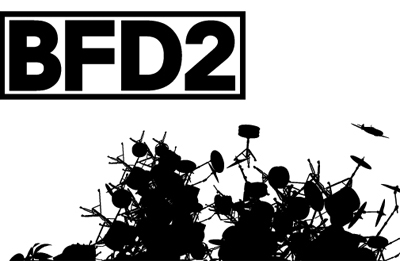 :: Load up to 18-piece kits, or quickly compile custom kits from the variety of provided instruments. Mix and match toms, build experimental layered kits and more with just a few mouse clicks, assisted by the descriptive information display and clickable previewing.
:: Tune, velocity-scale and control the ambience levels for each part of the kit.
:: Setting up BFD for triggering and remote control couldn t be simpler. Extensive MIDI learn makes it quick and easy to map any electronic drum triggers and keyboards, and any control or fader on BFD's interface can be remote controlled via MIDI. Advanced keymapping tools let you set up multiple keys for individual articulations, with optional layering, adjustable velocity curves and ranges, velocity-sensitive damping and much more.
BFD is a trademark of FXpansion. All trademarks are the property of their respective owners. Any brand and model names are for reference only; no affiliation is implied.
Kit size: Over 12 GB (installed)
Kit model: DW Neil Peart Custom
Grooves: 0
Kit pieces:
• 23" x 16" Kick Drum
• 14" x 6.5" Snare Drum
• 14" x 6.5" Edge Snare Drum
• 8" x 7" Tom
• 10" x 7" Tom
• 12" x 8 Tom
• 13" 9" Tom
• 15" x 12" Tom
• 15" x 13" Tom
• 16" x 16" Tom
• 18" x 18" Tom
• 22" Sabian Paragon Ride Cymbal
• 4 Sabian Paragon Crash Cymbals (16", 16", 18", 20")
• 3 Sabian Paragon China Cymbals (20", 20" with rivets, 19")
• 3 Sabian Paragon (10", 10", 8") Splash Cymbals
• 5 Cowbells
This product requires an installed and registered copy of BFD3. Please note that your Sonic Reality Neil Peart Kit serial number only authorizes your Sonic Reality library. It will NOT serve as registration for the actual BFD3 software.
*This version works with BFD3 only.
*This product is download only.

*For information on Sonic Reality's proprietary I-Map mapping layout click here.
Sample Format


sounds may be used in all samplers supporting the following formats

Manufacturer