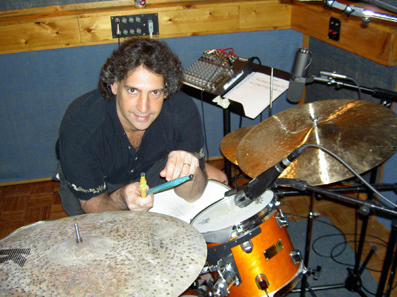 About the Danny Gottlieb Stereo Drum Kit:
This product is a multi-sampled DW® kit made to be played from Sonic Reality's Infinite Player. It was recorded in a tight smaller sized drum room at a studio in South Florida. It features a variety of stick types such as wood stick, brushes and hot rods played with both snares on and snares off. These 6 multi-sampled kit variations do not include direct tom mic channels as the tom sounds are achieved mainly from the overhead mics. Even though Danny is known primarily for his Jazz drumming, this kit is suitable for a variety of different styles of music from pop to hip hop to rock. It is uniquely crisp and punchy with a raw analog grit to it.
ProFile on Danny Gottlieb:
Danny Gottlieb is one of the most popular drummers in jazz and contemporary music. While best known as the drummer in the original Pat Metheny Group, Danny, during the past 25 years, has performed and recorded with some of the world's greatest musicians. He has also worked with numerous jazz and rock artists such as: Jeff Berlin Trio; Gary Burton Quartet; Stan Getz Quintet; Blues Brothers Band, Sting, Bobby McFerrin Trio; Eddie Gomez Group; Michael Franks Band; John McLaughlin's Mahavishnu Orchestra; Al DiMeola Project; Mike Stern Trio; Manhattan Jazz Quintet; Manhattan Jazz Orchestra: GRP Big Band; Gary Sinise's Lt Dan Band; Joe Beck Trio; Big Band; NDR Big Band; Randy Brecker Quartet; Booker T and the MG's; Pete Levin Trio and many more.
Sonic Notes:
Dave Kerzner of Sonic Reality about Danny Gottlieb: "Danny is one of the nicest people I ve ever met. His enthusiasm and energy is endless. Originally we were intending mainly to do a cymbal library focused on multi-sampled instruments as opposed to loops but found that in the studio Danny could not stop himself from playing hundreds of tasteful grooves during that session. So, we sampled the rest of the kit that was used for those grooves and put together this Drum Masters title. It's really a precursor to what's to come from years of work we ve been doing since then with Danny, sampling his rare instruments and capturing his unique style of playing..."

In 2004 Danny met Dave Kerzner through mutual friend, New York producer Stephen Dewire. Since then they have collaborated on some of the most extensive sampling of rare cymbals ever including the ride cymbal Joe Morello used on Dave Brubeck's "Take Five", vintage cymbals from Jazz legends Mel Lewis and Don Lamond plus one of a kind prototype cymbals that Danny has collected over the years and more. Some of these cymbals are featured in Danny's Drum Masters kits and grooves but you can also expect much more to be released from Danny and Sonic Reality soon!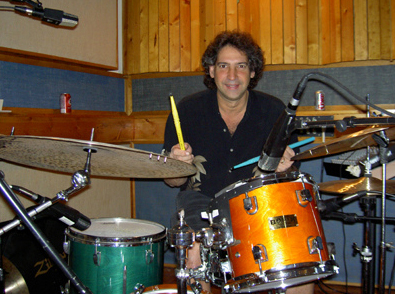 Easy to Use, Intuitive and Flexible Graphic User Interface!
Whether you play from the keyboard, V-Drums™ or any electronic drum kit, Drum Masters 2 has some of the most advanced features for round robin randomization of hits, performance articulations like ghost notes, snare rolls, and hits from center to edge to rim. With new " MIDI learn", custom kits can be tailored for any drum pad set up. It includes GM, iMap and a new Performance mode for expressive MIDI grooves and universal compatibility all in one package. Top that off with ready to go mixes, built-in effects and infinite expandability, Drum Masters 2 is the ultimate virtual drum solution!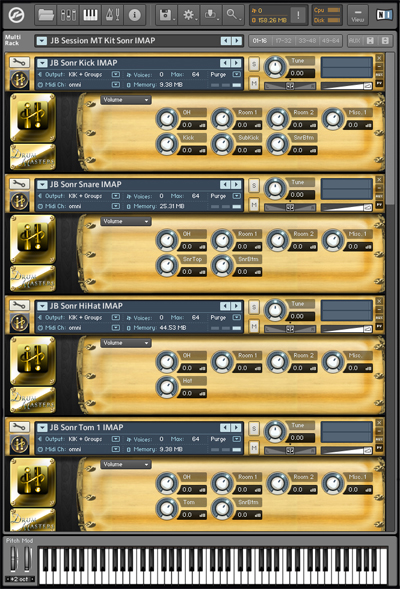 Example Drum Masters "Multi" Drum Kit Screen Shot
Drum Masters Stereo Drum Kits:
Drum Masters Stereo Drum Kits are great for quick loading and efficient use of your computer's power. Instead of discrete mic channel mixing like Drum Masters Multi-track kits, with the Stereo Kits you have a "Ready to Go" mix of the mics preserved in less channels taking up less polyphony. You still have a individual control of the overall levels for each kit pieces like kick, snare, toms, hats and cymbals which offers a balance of speed and convenience without total sacrifice of sonic flexibility. Additionally most of the drum kits mixed without additional processing for a natural acoustic sound with the flexibility to get a wide variety of produced sounds within your DAW using your favorite effect plug-ins. The kit pieces are also easily interchangeable for creating an unlimited number of customized kits. Drum Masters kits can also be combined with authentic played audio grooves from the same session for building the ultimate drum track with realism.
Features:
• Diverse Range of Kits: Unique custom and vintage drum kits from legendary drummers and top drum brands.
• Signature Styles and Sounds: Authentic techniques and recording equipment used in the session to recreate drum sounds from iconic Classic Rock albums to Jazz, Soul, Blues, Hip Hop, World, Pop and other styles.
• Ready to Go Stereo Mixes! Stereo mixed kit pieces with overall level control of the kick, snare, toms, hats and cymbals. Stereo Kits load fast and are incredibly efficient on your computer power. It's ideal for laptops!
• Unprocessed Natural Acoustic Sound: Recorded naturally with no additional processing for maximum flexibility to produce, process and engineer within your DAW.
• GM and iMap Drum Maps: Both General Midi and Sonic Reality's award-winning iMap™ drum layouts for the ultimate in compatibility and expressive realism when creating drum tracks.
• Left and Right Hand Alternate Hits! Drum Masters iMap kits have left and right stick alternate hits on separate keys for avoiding machine gun effect and simulating a drummer's natural alternating two hand playing.
• Dynamic Velocities and Multiple Drum Positions! Drum Kits are mapped both with multiple velocities and a variety of positions of each drum from center to edge to rim.
• Ideal Material to Use with Effect Plug-ins: Process each mic channel separately or together through your favorite studio effects plug-ins and channel strip EQ in your DAW.
• Unlimited Custom Kits Can Be Made! Drum Master kits are flexible and customizable allowing the ability to swap out kit pieces between kits to create your own custom hybrid drum kits.
• Uses the Infinite Player Software: All Drum Masters Kits and Grooves are played from Sonic Reality's Infinite Player library for Kontakt, which works stand alone for the Mac and PC and as a plug-in for major DAWS like ProTools, Cubase, Logic, Sonar, Digital Performer and more.
• Endlessly Expandable Collection! With the Infinite Player you can expand and add more Sonic Reality drum kits, grooves and other instrument sounds to your collection.
Mapping Modes: iMap, GM, V-Drum, Custom
iMap
iMap is a proprietary MIDI note mapping/drum kit layout scheme developed by Sonic Reality that facilitates improved live performance of drum kits via MIDI keyboard. iMap places drums in their most flexible and intuitive position, allowing each of the fingers on both hands independent and coordinated control over the sampled kit. With little practice, it is possible to lay down complete drum grooves in a single take that have incredible feel and groove. I-Map has left and right stick positions per drum as well as a variety of positions from center to edge to rim. It includes additional performance articulations you don't often get from other drum products such as left and right keys for snare rolls, separate ghost notes, hat foot open, chokes, crashing rides and more.


click to enlarge
GM (General MIDI)
GM is the classic mapping format for standard MIDI files. Sonic Reality's IMAP/GM remapping button works by putting selected IMAP notes remapped to GM notes instead. You can change an entire multi kit from IMAP to GM with one simple key switch. This offers the best of cutting edge expression without sacrificing universal compatibility with GM MIDI loops.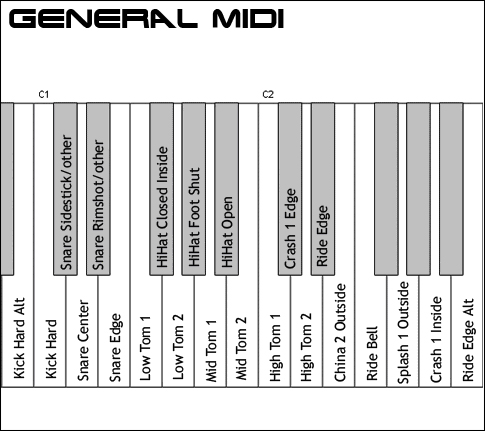 V-Drum
All Drum Masters 2 kits have been mapped for Roland's TD-20 V-Drum brain. V-Drum mapping features include a snare drum rimshot/sidestick switch and intricate hi-hat articulation controls. Round robin randomization and detailed articulation sampling introduce a realistic approach to e-drumming!
Custom
Assign any articulation of any instrument to any MIDI note! By either using the MIDI Learn function or an interface knob, this mapping panel allows for ultimate flexibility for use with any electronic drum kit, multi-pad controller or any other MIDI device.

About Sonic Reality's Infinite Player

Infinite Player is a licensing mechanism that authorizes Sonic Reality sounds to be played in Native Instrumens Kontakt and the free Kontakt Player. Kontakt is the industry's leading sampler and, combined with Sonic Reality's immaculate sampling and thorough scripting, allows for ultimate flexibility.
By registering the Infinite Player, any of Sonic Reality's sounds for Kontakt can be easily installed and expanded. The Infinite Player library will appear in your Kontakt library in the same manner that the Kontakt Library, Akoustik Piano, or Elektrik Piano would. After the one-time installation of the Infinite Library, all newly installed Sonic Reality sound sets for Kontakt will automatically appear!
All trademarks are the property of their respective owners. Any brand and model names are for reference only; no affiliation is implied.