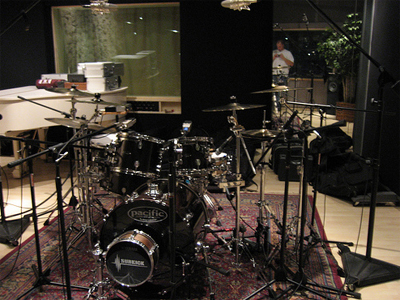 Sonic Notes:
Quote from Dave Kerzner of Sonic Reality about the Classic Rock Kit: "We had actually done two general purpose Classic Rock drum sampling sessions with Mark Hornsby very early on in the Studio ProFiles series. The other kit and groove material may be released at some point as well. These two sessions were done before I later decided to focus more on specific character rock sounds and grooves but there's still the benefit of offering a broader range in one product especially for the multi-track Classic Rock groove set that is associated with this kit. For someone who wants good bang for the buck variety on the grooves and the kit that was used to play them then you ve certainly got a great deal here with the Classic Rock Drum Masters titles. This is a nice all purpose rock drum set. From the way it was recorded one could say it's particularly useful for Hard Rock."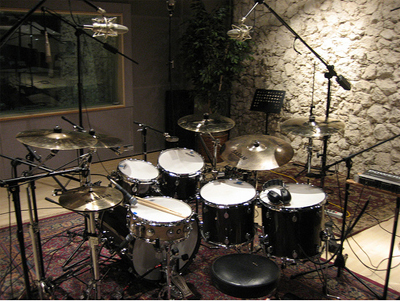 Easy to Use, Intuitive and Flexible Graphic User Interface!
Drum Masters 2 is a virtual drum and groove instrument with the tools to create the most realistic virtual studio drum session in the computer. Live multitrack Rex audio grooves played by master session drummers and the unique ability to use both kits and grooves together to create incredibly realistic drum tracks!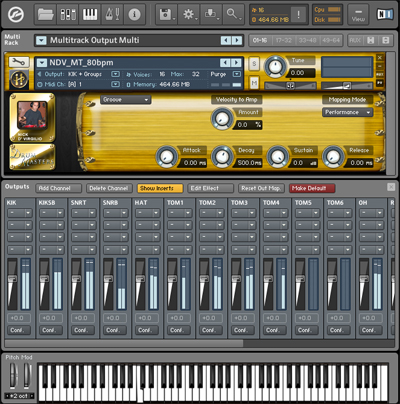 Example Drum Masters "Multi" Drum Kit Screen Shot
Drum Masters 2 Multitrack Drums put you in control of the mix as if you had the original multitrack master tapes in your hands! An accurate simulation of classic drum sounds allows you to create your own music with rare flavors of sound that were previously only a luxury to very few. This is ultimate production power inside your computer! Drum Masters kits can be combined with authentic played audio grooves from the same session to create the most realistic simulation of a live multitrack drum session of any drum plug-in today.
Features:
• The only multitrack Rex Loops Mapped to the Keyboard: These are currently the only time-aligned multitrack Rex loops playable from a MIDI keyboard! This offers the tempo flexibility of Rex format without sacrificing the discrete mix control of the mic channels.
• Diverse Range of Kits and Grooves: Unique custom and vintage drum kit sounds and grooves from legendary drummers.
• Performance Maps for Playing Grooves Along Side the Kits: Drum Masters grooves come with "Performance" maps which are 1-2 octaves of drums that are mapped in an area above the kit where both the kit and the grooves can be played at the same time and automatically routed to the same individual outputs for processing.
• Signature Styles and Sounds: Authentic techniques and recording equipment used in the session to recreate drum sounds from iconic Classic Rock albums to Jazz, Soul, Blues, Hip Hop, World, Pop and other styles.
• Full Multi-Channel Control! Hi quality discrete mic channel mixing so you can blend directs, overheads, rooms and more to get a diverse range of sounds from dry to ambient.
• Unprocessed Natural Acoustic Sound: Recorded naturally with no additional processing for maximum flexibility to produce, process and engineer within your DAW.
• Loops Can Automatically Sync to Your Host's Tempo! Drum Masters multitrack Grooves are set to automatically sync to your host's tempo. This can be turned on or off in the plug-in for the ultimate convenience and flexibility in your work flow.
• Authentic Played Audio Grooves Add Realism! By combining the audio grooves with your MIDI kit performances you get more nuances, feel and interaction of the kit which helps to simulate a REAL multitrack drum session.
• Ideal Material to Use with Effect Plug-ins: Process each mic channel separately or together through your favorite studio effects plug-ins and channel strip EQ in your DAW.
• Endlessly Expandable Collection! With the Infinite Player you can expand and add more Sonic Reality drum kits, grooves and other instrument sounds to your collection.

About Sonic Reality's Infinite Player

Infinite Player is a licensing mechanism that authorizes Sonic Reality sounds to be played in Native Instrumens Kontakt and the free Kontakt Player. Kontakt is the industry's leading sampler and, combined with Sonic Reality's immaculate sampling and thorough scripting, allows for ultimate flexibility.
By registering the Infinite Player, any of Sonic Reality's sounds for Kontakt can be easily installed and expanded. The Infinite Player library will appear in your Kontakt library in the same manner that the Kontakt Library, Akoustik Piano, or Elektrik Piano would. After the one-time installation of the Infinite Library, all newly installed Sonic Reality sound sets for Kontakt will automatically appear!